Dorkbot:85 Dorkbot Seattle 0x55 Oscillate artist talks
When:
February 6, 2013 -

7:00pm

-

8:30pm
Where:
Vermillion
1508 11th Ave,
Seattle
,
WA
,
98122
What: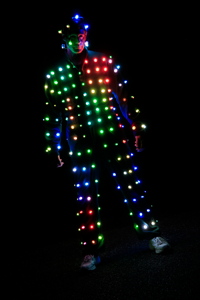 Come hear short, 5-10 minute presentations from the Oscillate artists, explaining their motivation and the underlying tech, design, or science that went into their pieces.
In particular, you'll hear from:
Doug Bell Fly Through a Fractal -- 3D Cubes projected on an LED Array
Michele Boland Particle -- touching eletromagnetism
Shelly Farnham Robot Marilyn -- arduino animating RGB array around a cone...Marilyn's skirt
Ben Flaster Tesla's Corpse -- visualizing electromagnetic flux lines
kEvin Friberg This is a Present from a Small Distant World -- Gears, oh my!
Josh Lind Meteorolumen -- a window of programmable lights representing oscillations of Seattle weather
Bryan Ressler Anthrolume -- a wearable, computer-controlled light suit with 250 LEDs
Following the short talks, we'll have a question/answer discussion.
Learn more about the show at:
http://www.mynewsletterbuilder.com/email/newsletter/1411573309
Cool pics at:
http://seattletimes.com/html/picturethis/2020173580_artoflightandmovemen...