Dorkbot:59 (NOT DIYBio) Catastrophic Cacophony II - return of the Din
When:
May 5, 2010 -

7:00pm

-

10:00pm
Where:
University of Washington, Seattle campus, Art Building, Room 327
Chelan Lane & Stevens Way NE
Seattle
,
WA
,
98105
What:
Due to last minute scheduling issues our DIYBio meeting is going to be postponed. Instead we are going to do a reprise of one of last year's popular hands on meetings.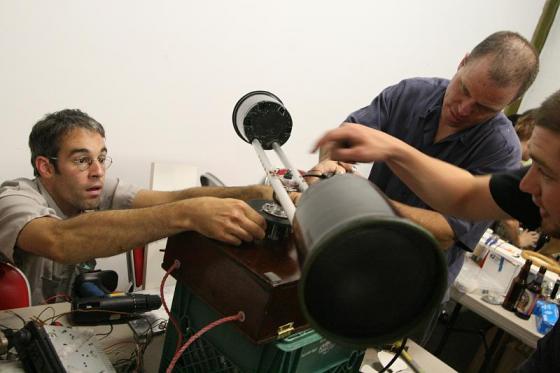 The theme is catastrophic cacophony and the challenge is to build the loudest, craziest, flashiest automated "musical" instrument ever. You will have to be able to step back and let your creation play by itself, even if it destroys itself in the process.
The most amazing instrument wins.
Extra points if it sounds musical.
We will supply some basics, but Bring your own tools and junk!
Empty out the junk drawer in the kitchen.
Bring tie wraps and duct tape.
Bring wooden scraps for structure and metal bits for noise.
Got a cordless screwdriver? Bring it! (good for construction, and they work great as power sources)
Here are a couple of videos from last year so you understand the madness:
http://vimeo.com/1484549
http://www.flickr.com/photos/espressobuzz/2743429294/

(images courtesy http://www.flickr.com/photos/espressobuzz)