Dorkbot:64 dorkbot seattle 0x40 - fab 3D
When:
January 5, 2011 -

7:00pm

-

10:00pm
Where:
Jigsaw Renaissance
815 Airport Way S
Seattle
,
WA
,
98134
What:
For the first Dorkbot of 2011 we are taking another look at 3D fabrication technologies.
Mark Ganter - Materiality
Professor Mark Ganter is a co-director of the Solheim Rapid Prototyping lab in the Mechanical Engineering Department on the campus of the University of Washington, Seattle, Washington, USA. He is a Professor of Mechanical Engineering. As a practitioner of geometric modeling, and geometric design for 20+ years, he was driven to rapid prototyping since conventional manufacturing was unable to fabricate parts designed in the lab. The Solheim Rapid Prototyping Lab acts as the host of the Open3DP website (Open 3D Printing) to foster open innovation in the 3D printing community.
Open 3D Printing focuses on the exploration of 3DP material systems especially the "low" end of the market. We aimed to print with readily available materials. This research is non-trivial. New strategies for 3d printing had to be developed and validated. Our print recipes, include readily available materials such as sugar, dry clay bodies, plaster, cement and recycled glass, and serve to reduce the cost of 3d printing materials by a factor of 10-50 times, eliminate difficulty associated with handling and storage of proprietary printing materials and expand the creation capabilities of 3D printing. Our approach expands the available practice community by shifting the need for "perfect" designs for high-cost 3d printing runs to low cost, low risk experimentation typical of artistic sketches.
Late in 2007, the Solheim Rapid Prototyping lab began to expand its collaborations and support to include Art, DXArts (digital and experimental arts), Architecture, and Archeology.
faculty.washington.edu/ganter

Open3dP.me.washington.edu
Meghan Trainor - Material Impulse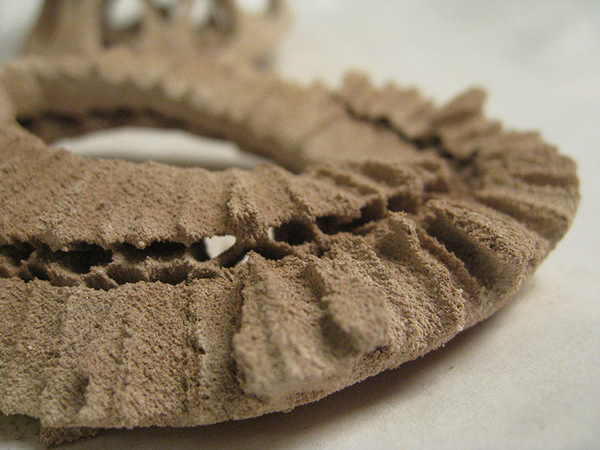 Artist Meghan Trainor will talk about her ongoing fascination with novel spaces where the physical and the digital intersect and how has led her from seminal explorations of arphid technologies to recent experiments with digital fabrication and human-computer interaction.
Meghan Trainor is a doctoral student at the University of Washington's Center for Digital Art and Experimental Media (DXARTS) and graduate of the Interactive Telecommunications Program (ITP) at New York University.